Tripawds is a user-supported community. Thank you for your support!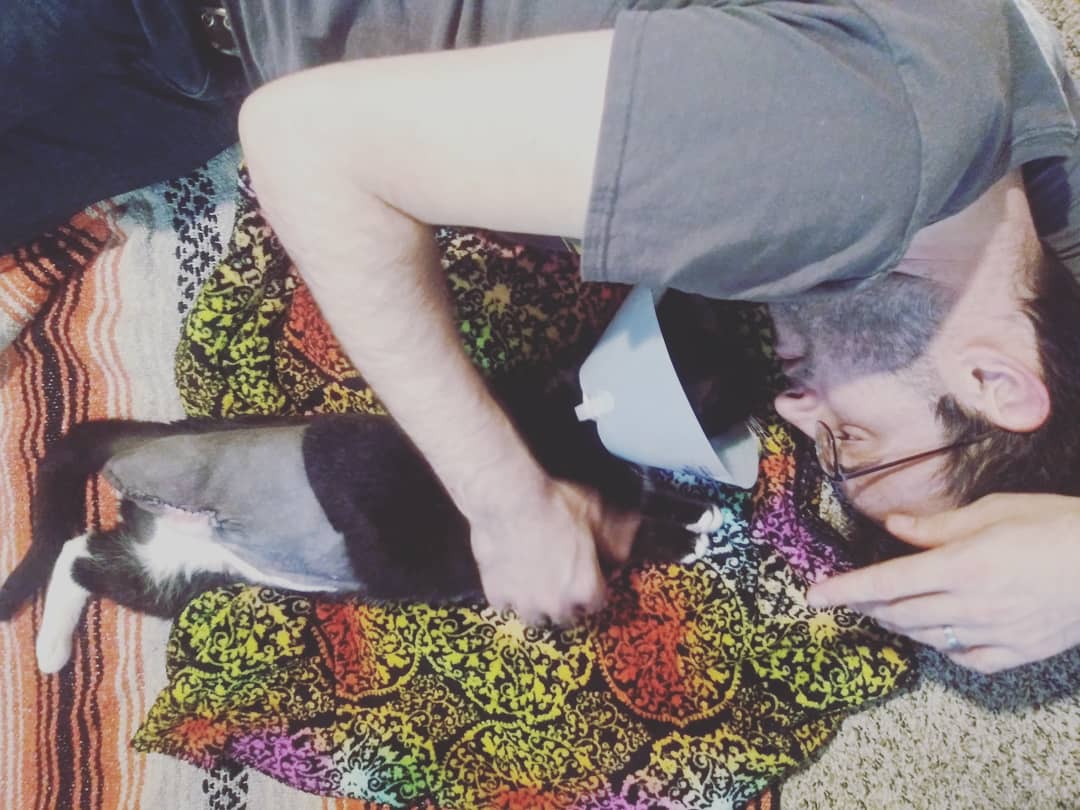 Ok, first off. Little is doing VERY well this morning. She has made it from our office/closet, thru the bedroom, up one step to the kitchen and down one step to the laundry room where the litter box is. She even used the box!
Now to my drunk best friend. The vet had us pick her up at about 5:30pm last night and mentioned that she was still very out of it, which we hoped would keep her sleepy thru the night. I thought bringing her home that soon would be a.) dangerous — couldn't she pop a stitch?! what if she falls?!  b.)  amazing — we missed her, she missed us and "she's gonna bounce back so quick".
Well friends, it was BOTH. According to my vet tech friend (and cat mom of 5), some cats get a little wild on surgery meds and some cats sleep for hours dreaming of butterflies. On the way home she was moving all over the place and flopping her head up and down at the excitement of hearing our voices.
Quick funny: Husband sat in the back with her on the way home. He said "this feels like I'm on an embarrassing date with a really drunk girl and you're our Uber driver, like I have to tell her to try not to puke in the car."
Back to home and Little wanted to go everywhere and see everything (DANGEROUS). She was flopping all over the place and couldn't sit still and refused to be alone. The slightest sounds of my husband's voice and she wanted to go find him. She was frantically making biscuits on a blanket but just could not rest. Watching her flop over and struggle was terrifying. It was like watching your drunk best friend on New Years, wander around screaming at everyone, "I'M FINE!". We knew she wasn't fine and immediately took her keys away from her.
For a cat who will NEVER let you hold her, this girl needed me to hold her like a baby and rock her for hours (AMAZING). Finally we got her into my office closet and the crazy drunk best friend fell asleep with a few visits from us for 20 minutes at a time for pets and tears (ALSO AMAZING).
Watching her get down from the bed this morning onto the DIY "steps" consisting of a rubbermaid tub and a footstool, I am so proud of how well she's doing. She's a fighter.
To end, I will say I was a bit disappointed that my vet didn't really expand on how the meds may have a different effect on her. They also didn't recommend a small crate or anything like that to keep her a bit confined. I made a semi-frantic call to my vet tech friend around 7pm and these are all things she recommended. I probably could have done some more research, looked at the forums on here but you just don't know until you know.
She's passed out on a comfy blanket under her favorite chair now and all I can think is how thankful I am that my husband and I work from home so we can be with her all day, watching her and loving her. Thanks everyone for your support and I'll see you in the forums soon!